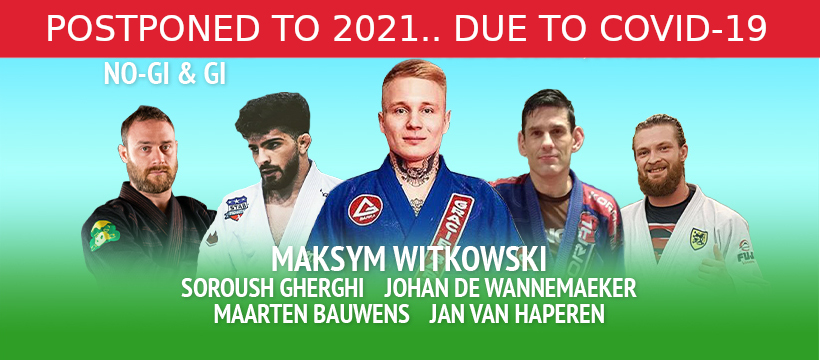 Update June 14 2021
Dear participants & instructors,
After having consulted with Dijkmansport, and some of the restrictions which still apply for contact sports. We can only have a limited amount of people on the mats and we would have to train in little bubbles so to say. The costst for the instructors, the  rent of the venue and all extra`s (like lunch, etc..) would mean that with the current amount of participants (max 25 – 30) the trainingweekend would not be profitable, meaning we weould have to pay several hundres of euro`s our selves to organise the weekend.  And thats beside all the work which has to go in to organising a weekend like this.
After their is more clairty concerning contact sports after the  winter and early spring in 2022 we will reorganise this trainnigweekend. People who already booked this weekend and paid for it will ofcourse still be able to join, and the planning will be discussed with these participants and the instructors in front.
Further more we will be organising more workshops on a frequent basis in 2022,  we already talked with our partner Dijkmansport about this, and we have a very good partnership together, which goes really well. When their is more clearity on the current situations, contactsports in general and all extra things which we all have to deal with, and take in consideration we will be organising more frequently.
But for now the cost income ratio and the amount of work it requires, and the limited possibillies makes it harder to organise our events the way we would like to.
Sincerely,
Team BJJNinja`s en Dijkmnasport
Update September 15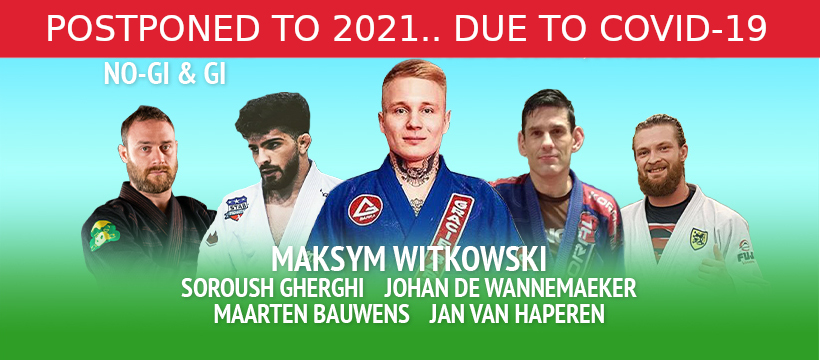 Dear participants & instructors,
After having consulted with Dijkmansport, we find that with the current contamination
degree in the netherlands and the variety of people coming from all over the netherlands,
belgium and even some from germany that organising the weekend with about
40 people on the mats training and rolling is not a good and wise decision during this time
with COVID-19.
Eventhough we have very good ventilation on the mats still with this many people from across
various countries the risk at this point is just to big. Even if we would decide that everyone
should be test 7 days before camp, than still in between those days people still might train, or
come in to contact with others..
In the upcoming weeks till the week of 21 september we will see how the contamination
line will continiue, if their is nog a significant reduction than we will reschedule thecamp in to
2021 where their also will eb a vaccin available. If their is a signifact reduction in NEtherlands
and Belgium and Germany than the camp will proceed as planned.
We do want to cater the people who already subscribed and also our instructors, so we thought
about offering some extra for a next set-up should the camp be cancelled.
1.We will organise 2 weekend so a PART1 being this edition and a SECOND one in withthe same
instructors in where we can look more indepth into the techniques which were offerend. This
because their is alot that will eb taught and in this manner we can roll and learn more.
2.People who already subscribed get a reduction of 20€ on the 2nd edtiion, ofcourse thesubscribtion fee
for the first weekend remains for the upcoming first one in 2021 than.
We feel sorry for this and ofcourse would also have loved to organise more camps throughout.
BUT SAFETY FIRST AND WE HAVE A RESPONSIBILLITY AS ORGANISERS IN THIS.
So in the weekend of 21 september we will post a message should the weekend be postponed to 2021.
Sincerely,
Team BJJNinja`s en Dijkmnasport
Update Juny 27
We have an official new date for our upcoming tainingweekend which you can put in your agenda. October 17 and 18 will be the new date on which this great trainingweekend will be held. you can already subscribe and get an early bird discount. Normal price is €80,- and the early bird is €70,eligible till August 31st.
Update May 7
TRAININGWEEKEND JULY POSTPONED TO END OF SEPTEMBER OR EARLY OCOTBER In line with the speech yesterday may 6th ( zee video on Youtube https://youtu.be/l-fS0wLA3Wc) concerning the Corona measures of our dutch government,
We will have to postpone our upcoming trainingweekend, which was plannend on 4 & 5 July NOT EARLIER THAN SOMEWHERE AT THE EIND IN SEPTEMEBR OR EARLY OKTOBER THIS YEAR. We will have to talk with Dijkmansport and the instructors and the people who already subscribed TO SET A NEW SUITABLE DATE. We will keep you posted on any further updates Team
Sincerely,
Team BJJNinjas
MAKSYM WITKOWSKI (
NO GI & GI

) SOROUSH GHERGHI (

NO GI WRESTLING

) JOHAN DE WANNEMAEKER (

NO GI

) MAARTEN BAUWENS (

NO GI & GI

) JAN VAN HAPEREN (

GI

)
EARLY BIRD ONLY €70,-. 

45 SPOTS AVAIALBLE

FULL IS FULL!!
WE ARE GOING TO HAVE A GREAT TRAINING WEEKEND, WITH SATURDAY NO GI  TECHNIQUES AND TWO WRESTLING SESSIONS. AND ON SUNDAY WE  WILL HAVE A GI TRAININGDAY. ON BOTH DAYS WE HAVE A HEALTHY  WALKING BUFFET LUNCH INCLUDED HALF WAY  BOTH DAYS.
On saturday at the end of the trainingday we will go to Groningen City and have dinner together (Own costs) and have something to drink after. So you can get to know each other also off the mat, and who knows maybe you can make some new friends and get some new adresses where you can train and stay. 
More info on what will be taught during the entire weekend, as well as the schedule, just follow us on facebook.
INSTRUCTORS:
MAKSYM WITKOWSKI (NO GI & GI)

SOROUSH GHERGHI (NO GI WRESTLING)

JOHAN DE WANNEMAEKER (NO GI)

MAARTEN BAUWENS (NO GI & GI)

JAN VAN HAPEREN (GI)
PRICE:
€70 early bird normal price €80
Dijkmansport Melisseweg 83, 9731 BM Groningen
If you have any questions, you can e-mail us at info@bjjninjas.nl