Trainingweekend No Gi & Gi – 21 & 22 May 2022
No Gi Saturday & Gi Sunday
Info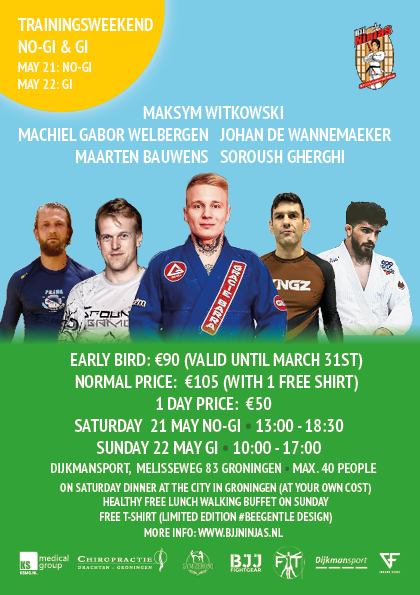 We are going to have a great training weekend, with saturday No Gi  techniques and a wrestling sessions. And on Sunday we  will have a Gi trainingday. On Saturday after the trainingday, we will have dinner in the city of Groningen and afterwards visit some pubs (own cost not included), this way you get to meet new people and maybe make some new friends.
T-shirt #BEEGENTLE series
On sunday we have a Gi trainingday and their is a walking buffet healthy lunch included half way during the day.  And to top it all off you will get a limited edition #BEEGENTLE t-shirt, a complete unique design especially designed for this weekend!
Instructors:
Maksym Witkowski (No Gi & Gi main instructor for this weekend)

Soroush Gherghi (No Gi  Wrestling & Gi)

Johan de Wannemaeker (No Gi)

Maarten Bauwens (No Gi & Gi)

Machiel Gabor Welbergen (Gi)
INFO EXTRA`S
Including Free access to Facebook group with over >30 hours of online video`s
Meeting new people and lots of rolling.
More than 10 hours of No-Gi and Gi sessions (which will be filmed and can be watched back on our facebook group)
Including Healthy Free lunch walking buffet on Sunday
FREE T-shirt (Unique Limited edtion specially designed for this trainingweekend #BEEGENTLE Design)
On saturday we will have a dinner in Groningen (at your own cost not included in camp price) and afterwards have something to drink at some nice pubs in Groningen City. So you get to know some new people and maybe make some new friends
Sponsors for this Event
PRICE & SCHEDULE 
€90 early bird till  March 31st


€105 Normal price

€50 for 1 day (No t-shirt included)
Dijkmansport Melisseweg 83, 9731 BM Groningen
If you have any questions, you can e-mail us at info@bjjninjas.nl