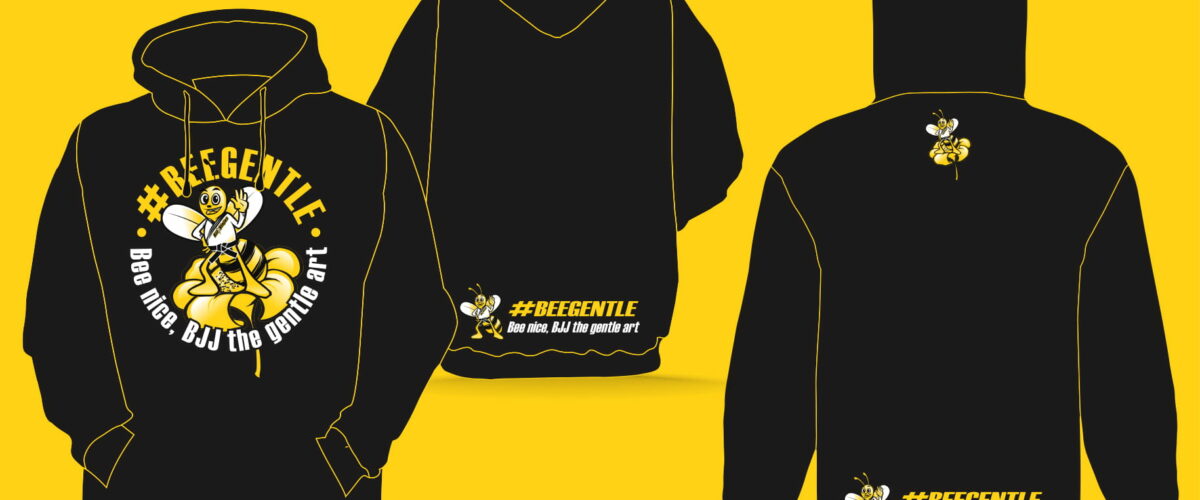 #BEEGENTLE  SERIES AVAILABLE IN HOODIE, LONGSLEEVE, T-SHIRT
We proudly present our next limited edition project for BJJNInja`s.  The #BeeGentle series, a limited edition series Hoodie (also with zipper), Sweater, Long sleeve shirt, or T-shirt. We have a maximu of 50 pieces available. So you know you get something special you order. 
#BEEGENTLE  SERIES  – Bee Nice, BJJ the gentle art Available in sizes S,M,L,XL,XXL LIMITED EDTION 50 PIECES //  45 PIECES LEFT OF 50

A nice gift for family, friends  or for yourself during these holidays!
Get your chance tot pre-order our new unique new #BEEGENTLE clothing. Available in high quality Hoodie (also with zipper), Sweater, Long sleeve shirt, or T-shirt.  Through our Facebook group page we are currently still in the stadium of voting for the best design. Our preference has is the design below for hoody and shirt.
Click on the image for a fullscreen view of the Final designs
Our runner ups
These are our second choices, but like we said we will leave it up to the community on oru facebook group and page, and other customers, which designs they like best. Which ever gets the most votes, will be the one printed on hoodies, longsleeves and t-shirts.
So please let us know what you think of this new series.
Click on the image for a fullscreen view of the Final designs
How to pre-order
E-mail to info@bjjninjas.nl with subject pre-order BJJNinjas #BEEGENTLE  (草鞋). With your full name, adress, they amount of hoodies, longsleeve shirts or T-shirts, and the sizes.

When the pre-order is officialy online at BJJ Fightgear. com you will receive an e-mail, you can then pre-order and pay for it directly on the webshop of BJJ Fightgear. So by reserving your pre-order now, you are sure that you will have the amount and pieces you want, wioth this limited edition.
Prices
Hoody with zipper €32,50 normal price €37,50

Hoody pre-0rder price €27,50 normal price €32,50

Sweater long sleeve €22,50 normal price €27,50

Longsleeve shirt pre-0rder price €17,50 normal price €22,50

T-shirt pre-0rder price €15,00 normal price €18,50
(excluding sending costs, see prices for that here) For any questions you can e-mail to info@bjjninjas.nl
Some cool info #BEEGENTLE serie
BJJ is called the gentle art, let us be a bit more nice to others on and off the mat.
The BEES play a key role in nature, for most bjj lovers, bjj does in their life. Let`s  try to love, honour and respect nature just as much
We try to do with others in the dojo on and off the mat, let us also try this within nature on our daily lives.
The Bee stands out playfull on the back of the hood.
Letters with the slogon also  printed on the bottom of the back of the sweater and shirt with the #BEE beside it.
Our logo optional on the sleeve or the chest (still in vote on our facebook pages)
The T-shirts are made out of 100% cotton, ring spun.
The clothing has a regular fit.
Fullcolor Double print (Front and Back)
BJJ & Ninja`s Lifestyle
Machine wash at 30 °
Tumble dry at low heat
Do not bleach
Sincerely,