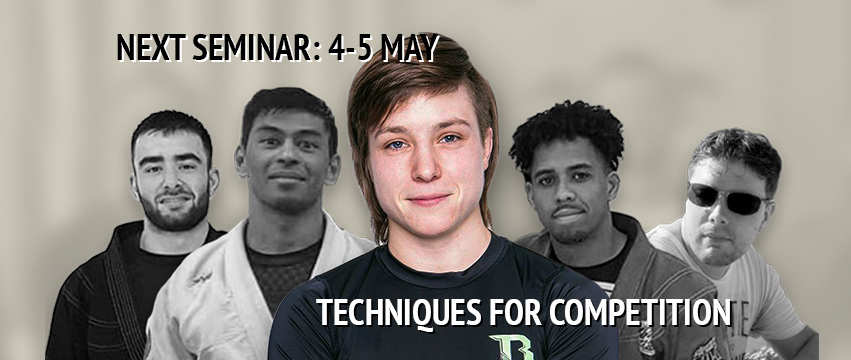 "Techniques for competition" – Gi & No-Gi
 FIRST 20 SUBSCRIBERS GET A BIG BJJNINJA`S PATCH WORTH €20,00  BE FAST WE ONLY HAVE 35 TICKETS AVAILABLE FULL IS FULL!!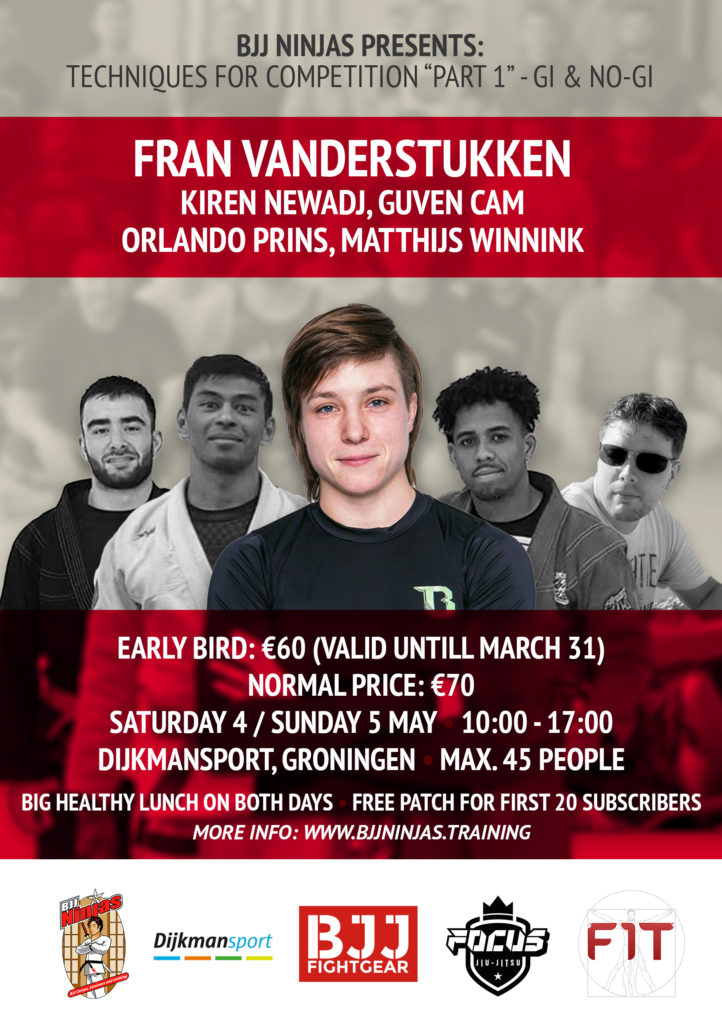 Our next BJJNinja`s event will be a trainingweekend at Dijkmansport on may 4 and 5th. With no less than six sessions in the Gi & No-Gi.
Two Gi sessions and one No-Gi session on saturday, and two No-Gi sessions and one Gi session on sunday. Two sessions will cover standing techniques. One with Gi and one session No-Gi. Each session will be 60 minutes.
Meaning you will have the chance to learn alot of different usefull techniques you can incorporate in your training and/-or competition.
The rest of the time in between the sessions will be filled with rolling and relaxing together on a beautiful light and open professional judo mat of 200m2. As you are used of us, half way each day we serve a healthy buffet lunch (bread, egss, fruits, milk, yoghurt, cruesli, coffee etc..), 

First 20 sign-ups,  get a  full color high quality big BJJNinja`s patch (31x31cm) worth €20,-
You can sow this on the back of your Gi, jacket for example.
Instructors for this event
Instructors:

Fran van der Stukken (Brasa Belgium)  will be the main instructor for this camp. She has over 10 years of judo experience, national and international victories, 3th degree black belt, Started MMA in 2009 and practiced BJJ in function of MMA for the first couple of years, MMA record: 7 – 1 – 0 (3 amateur fights, 5 professional ones) Around 2 years ago the decision was made to focus mainly on BJJ.

Main Achievements

Vice European IBJJF gi champion (brown belt, lightweight)
2016 3th place European ADCC Championship
2016 World Champion ne waza jiujitsu (-62) – 2016- 2017
Vice European IBJJF no gi champion (brown belt, open weight)
2017NAGA UK and German champion gi and no gi (elite division)
2017National Pro UAEJJF Champion in Brown Belt featherweight
2018 Nation AGF Belgium Championship Gent GOLD 2018 (source  Atastebjj)

Fran will teach a No-Gi session and a Gi Session. Two sessions each of 90 minutes. one on saturday and the other sunday.

Kiren

(Checkmat Amsterdam)

very experienced brownbelt and internatial competitor with years of experience in competition ever since he was a white belt.. He trains and teaches at BJJ Academy Amsterdam

Will teach a 75 minute during Gi Session on sunday in which he will share techiques which he has been using succesfully during the last years of his competitions and training.

Guven Cam aka Panchito / Kurdish ninja (Dutch national champ 2018 blue belt lightweight / UAEJJF NETHERLANDS PRO🇳🇱 Double gold 2018)

Will teach a Gi Session on saturday in which he will share his favorite techniques during competiton.

Matthijs Winnink (2nd degree black belt judo over 25 years in Judo experience)

Will teach various standing techniques  in the Gi on saturday afternoon from his extensive judo background over the last 20 years. 

Will teach a No-Gi session on sunday in which he will share some of his favorite techniques he likes to use in competition. 
Whats included ?
Top training accommodation with 200m2 mat space in a top quality Dojo and training facility with an open venue and atmosphere. 
4 Hours of openmat time every day for rolling and sparring.
Healthy Lunch on both saturday and sunday.
6 seminar sessions (3 gi & 3 No-Gi)
Gi and No-Gi sessions
Great Rolls, with an open and friendly atmosphere.
No politics, love for the Gentle art and make new friends.
ADDITIONAL HANDY INFO
Their is free parking infront and beside the training venue 
PRICE & SCHEDULE 
€60,00 early bird until march 31st. The schedule for the weekend will be online in april.
ADRESS OF THE LOCATION
If you have any questions, you can e-mail us at info@bjjninjas.nl