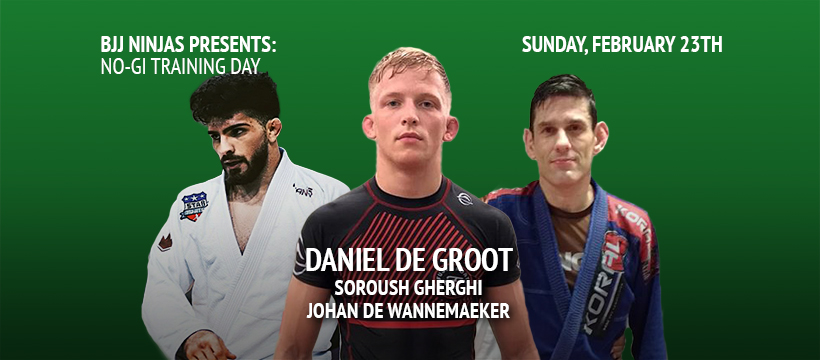 23 February trainingday No Gi 
Daniel de Groot, Johan Wannemaeker,  Soroush Ghergi
EARLY BIRD ONLY €27,50,-. 

45 SPOTS AVAIALBLE

FULL IS FULL!!
Info
Basic wrestling techniques for BJJ, cool competition techniques for your No Gi game and more…
Our next BJJNinja`s event  is  a No Gi trainingday on 23 February 2020. We have some great instructors who will be teaching and sharing some of their knowledge and experience. 
Daniel will be teaching some of his favorite techniques he likes to use in competitions, Soroush is a very experienced wrestler who will be teaching some basic wrestlign skills you can use inyour No Gi game. Johan will be teaching some cool Kimura traps and set ups standing as well as on the ground.
We also got a healthy lunch included half way the day, and ofcourse all sessions will be filmed and uploaded afterwards on our facebook group.  So what are you waiting ro join up!
Instructors:
PRICE & SCHEDULE 
€27.50 early bird till January 31st.
Dijkmansport Melisseweg 83, 9731 BM Groningen
If you have any questions, you can e-mail us at info@bjjninjas.nl