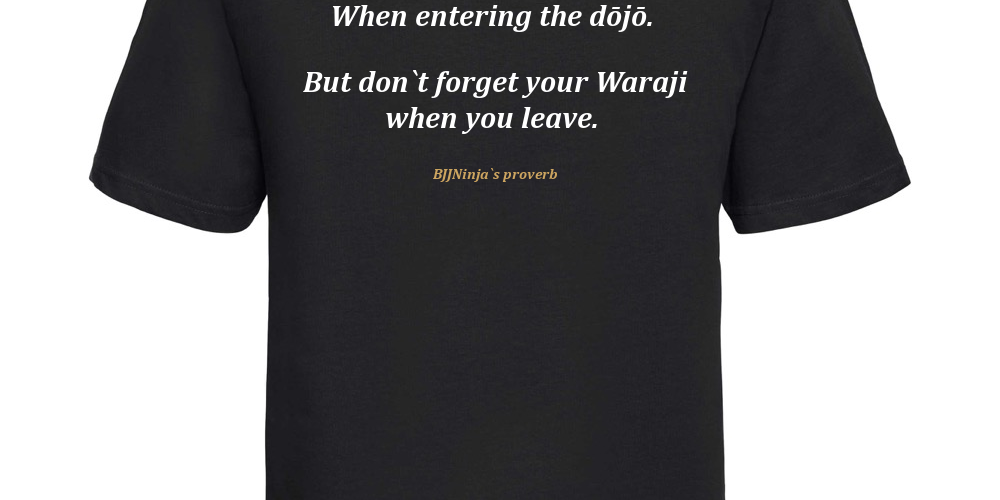 Pre order T-shirt BJJNinja`s
Serie Watch Your Back / Waraji (草鞋) T-Shirt – Limited edition 35 pieces
5 sold 30 shirts available

We have our first clothing piece ready for printing. A cool high quality full color double printed t-shirt. NOW JUST €14,95,- being it our first clothing piece. Normal price €24,95 retail sold through our 100% partner BJJ Fightgear
How to order?
Send an e-mail to info@bjjninjas.nl, with your shirt size and the amount of shirts you would like to pre-order. If your order four T-shirts you get one shirt for free.
About our clothing
We proudly present our very first Edition of T-shirts. The picture below will give you a preview idea of how the T-shirts will look.All our Clothing pieces will have a limited edition of 35-50 pieces. New pieces will get a unique new proverb, or will be printed on a new type of clothing.
BJJNinjas Watch your Back / Waraji (草鞋)

normal price €24,95 EUR
About the T-shirt:
Waraji – Waraji (草鞋) are sandals made from straw rope that in the past were the standard footwear of the common people in Japan. Waraji were also worn by the samurai class and foot soldiers (ashigaru) during the feudal era of Japan.
When you are in between sizes, the smaller size might be a better fit, but up to your personal preferences.
Specifications:
The BJJNinja`s T-shirts are made out of 100% cotton, ring spun. These t-shirts have a regular fit.
Fullcolor Doouble prin (Front and Back)
BJJ & Ninja`s Lifestyle
Machine wash at 30 °
Tumble dry possible at low heat
Do not bleach